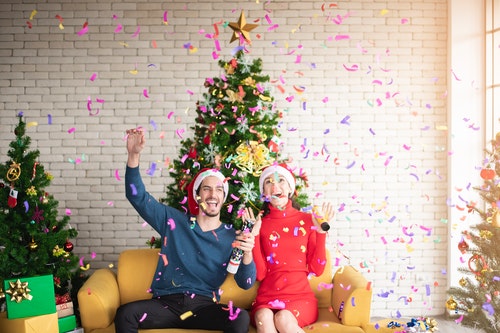 And just like that, 2019 has almost come to a close. Holiday party season is in full swing, and folks everywhere are thoughtfully and diligently planning what to serve family and friends. Let's be real here, traditional Christmas dinners look a whole lot like traditional Thanksgiving dinners, and that's fantastic. But if you're looking to add just a little twist to the same-old-same-old, why not swap out that bottle of wine for some beer? Here we'll share a few ideas about how to expertly pair beer with your traditional holiday meal.

First and foremost, we have the appetizer course; and really that can be any number of things: shrimp cocktail, chips and dip, or a charcuterie board featuring cured meats, cheeses, and olives. A light- to medium-body beer like an IPA (for example our G.P.A. Geneva Pale Ale) would be a great contrasting choice. The bright, spicy, crisp effervescence of this beer would work well with the salty, savory appetizers.

Traditionally, ham or turkey would be served for the main course; each pairing with different beers. If turkey is on the menu, pour your guests a Dopplebock, one of our current seasonal selections. The richness and underlying sweetness of the caramel notes highlight the turkey as well as sweet potatoes, cranberry relish, etc. On the other hand, pair a Belgian White Wheat, like our Older But Weisser, with ham. The coriander and clove notes of this refreshing, light-bodied beer will perfectly balance the sweet and salty taste of a honey baked ham.

Onto everyone's favorite part: dessert. Beer can make an amazing companion to all types of desserts if you know what to look for. Why not try a Porter, like our Doc's Porter? This malty, creamy beer has just enough sweetness to perfectly complement any holiday dessert you may choose from pie to cookies, chocolate to vanilla, you can't go wrong.

If a beer pairing experience sounds like a great idea for your holiday table, our brews are available for purchase to-go in growlers. We also host monthly beer pairing dinners at the restaurant. But whatever your plans for the season may be, all of us at Stockholm's wish you a safe and warm holiday with beloved friends and family. Skoal!